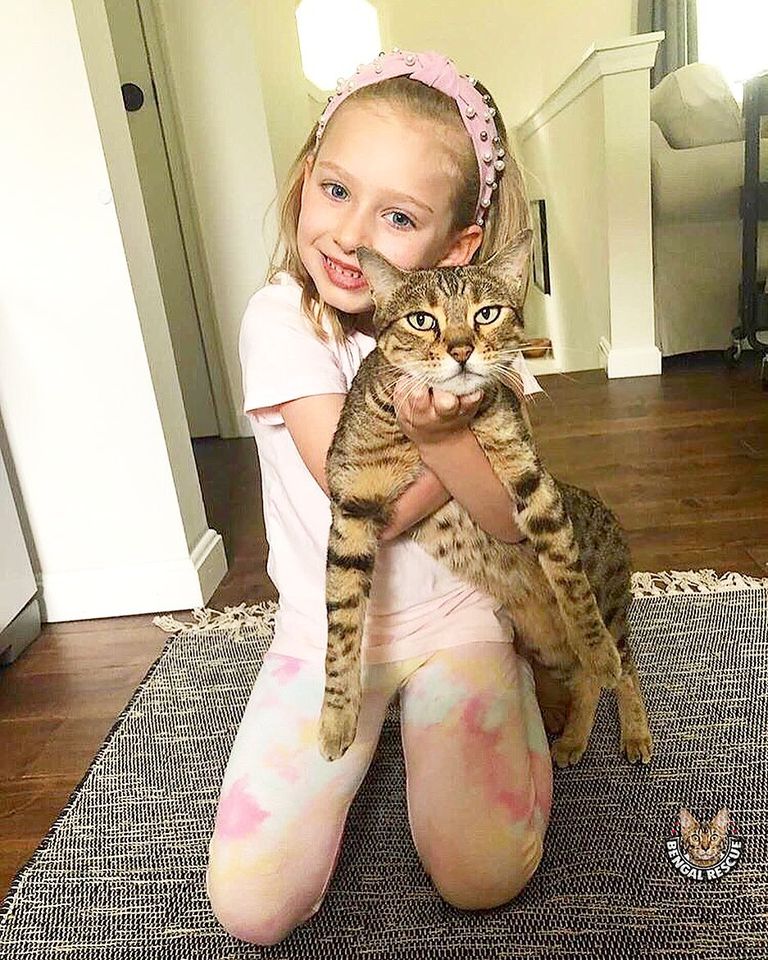 Adoption Process
At Bengal Rescue, we treat every single cat as a completely unique and individual cat. We have to – because no two Bengals are alike. They each have their likes, dislikes and preferences; it's up to us to listen to them carefully and observe them, so that we can place them in the perfect home where they will never be in need of Rescue again.
Our criteria for selecting Adopters depends entirely on the cat. Some Bengals want to be in a busy home with children who have been taught proper cat-handling techniques. Others want to be the only pet in the household.  Some Bengals love other cats – and others cannot be placed in a home with other cats or dogs. When you are applying for a Bengal in our program, please read their Bio carefully and ask yourself if your home is a perfect match for what we've described?  In the end, we're looking for the best match overall, and not for just what the humans want.
We adopt our cats as STRICTLY INDOORS.
IF YOU LIVE IN AN APARTMENT:
Please note that the Bengal breed is a HIGH ENERGY breed. They need lots of space and room to exercise, explore, and get that energy out. For this reason, many Apartments do not accommodate that need. We have successfully placed a number of Bengals in Apartments, but this is usually cats who are 10 or older, and also cats 10 and older and dislike other pets. We look at each Bengal cat's needs, individually, and ensure that their energy level matches their new living environment.
We often get inquiries from Applicants wanting to know lots of additional detail about the cat they are interested in. We're happy to answer those questions, as we progress through the interview process.
Given our limited resources as a 501(c)(3) all-volunteer non-profit, we are unable to answer lots of individual emails to questions about the cat. We receive anywhere from 25-40 applications for each cat in our program – imagine the volume when you add hundreds of emails to the equation?
Please review the Adoption Process below so that you will know what to expect during our qualification and adoption process.
_______________________________________________________________________
Available Cats
We post our Available cats in a number of places, starting with our Website and our Facebook page.
We also utilize other National independent rescue pet registry platforms such as RescueMe.org, AdoptaPet and Petfinder.
Additionally, there are also a number of Facebook pages where we post our cats, depending on the cat's location.
If you see one of our cats listed on a platform we do not own (such as RescueMe.org or AdoptaPet and Petfinder), we hope you will notice that we include a link to our Adoption Interest form in every cat's Biography (Bio). Most of the time people skip over that application link, and just go straight to emailing us questions through that website's email submission form.
We are not adequately staffed to answer thousands of emails a week ("What's the cat like? Is he good with other cats?"). This is why we include so much detailed information in the cat's Bio. You might find if you read the Bio again, you'll find the answer to many of your questions.
Matchmaking is not something we take lightly. That is why we have a process for getting to know our applicants, and letting our applicants get to know our cats.
_______________________________________________________________________
Applying to Adopt
We have developed two different Application forms for our Rescue.
Adoption Inquiry Form
The Adoption Inquiry form helps us get to know you at a high level. Often, people apply for cats and didn't notice that the Bio indicated that the cat cannot be transported across the United States, does not get along with other cats / dogs / young children.
Our Inquiry form helps us ensure that you and your family are a potential match to the cat's high-level requirements, saving all of us a lot of time.
Adoption Application Form
Once we review the Inquiry submission, if we think you look like a good match – we'll invite you to the next step, and ask you to fill out our official Adoption Application. If you're invited to that step – it means that we think there is good potential – and we want to get to know you better.
The Application is lengthy – we give you plenty of room on the form to demonstrate to us why your family would be the best match for the cat you're interested in. We do not approve Adoptions based on first-come, first-served. We approve Adoptions based on "best-suited" and we do perform background checks. Please take your time in telling us more about you and the future you envision with the cat.
In the case of both forms, we receive an unprecedented number of inquiries; please be patient while we work to get back to you. Unfortunately, we are unable to let every applicant know if they have not been selected to advance in the process, for the reasons just stated. Thank you for your understanding.
If you see another cat that you're interested in, and have already applied, please send us an email at info@bengalrescue.org and let us know to consider you (you will not need to fill out another Application, for a different cat). If you've made it well through the process, we will definitely reach out to let you know about other cats that are a match, when we find them.
_______________________________________________________________________
Interviews
Once we've received a good amount of applications, we start the Interview process. In order to keep everyone safe and healthy, we conduct Video Conference Interviews via Facetime, Facebook Messenger Video or Zoom.
Over Video Conference, we get to meet you, your family, and your other pets – which is incredibly helpful for us in matchmaking. This is the time when we'll answer all of the questions you have about the cat, and if there is anything we can't answer, we'll take note of it and get back with you.
Overall, the Video Conference helps us provide you with guidelines for integrating the cat successfully into your home, so that the transition is seamless.
Some of the topics we'll cover include:
Introducing Pets (if you have other pets)
Prior to the start of our scheduled Video Conference, we ask you to please read each of these articles. We want to make the call productive and if you have not done your research (if you've not read these articles) we will ask you to kindly reschedule the call for a time when you are prepared. Many of our Video Conferences with prospective adopters have not gone well because they did not do their research. We don't want to surprise you with our guidelines; it's best that you be prepared.
_______________________________________________________________________
Adoption Paperwork
Once we've gone through the Video Conference process, we make our final selection. If you are the lucky Adopter, congratulations! The next step is to contractually complete the adoption of your new family member.
Adoption Contract
Once selected, we will send you our Adoption Contract. It's a short three-page document that enables us to legally transfer the ownership for this cat from Bengal Rescue to you. We will email you the contract, ask you to fill it out, and then return it to us for counter-signature. We will then sign the contract and return it to you.
Adoption Payment
In the contract, we indicate the Adoption fee, and provide our PayPal Donate link and also the QR Code for our Venmo account. You can find that QR code here: Donate .
You do not need to have a PayPal account to donate. PayPal gives you the option to either make a payment with an existing PayPal account, or enter in a credit card (Once we had a Bank that declined payment with a client's debit card; when they tried a credit card, it worked fine).
We do not have the ability to offer other payment systems due to restrictions on 501(c)(3) organizations.
Adoption fees are non-negotiable and non-refundable. We base the fee on a variety of factors, including but not limited to age / health / expenses.
_______________________________________________________________________
Bringing Your New Family Member Home
Once we have mutually completed the fully signed Adoption Contract, and we have received your Adoption Payment, we will let you know that your Adoption is approved and complete (Congratulations!).
We will next make arrangements with you and / or the Foster or Surrenderer to schedule a meetup or transport adhering strictly to social-distancing guidelines.
Each situation is different in terms of transferring the cat to you. We will manage the process smoothly and seamlessly, for the best interest of the cat and all parties involved.
© Bengal Rescue 2021