Recommended Products
So, you're bringing home a new feline family member? Where do you even get started with all of the things they will need? We've pulled together this list of Recommend Products to make the task easier for you.
We're here to make it easy. Below is a list of the many "Bengal Cat Approved" Recommended Products that we highly recommend. Every photo below is a direct link to order – which should make things super easy for you.
Even better, if you purchase from the links on this page, Bengal Rescue will receive a portion of your purchase, as a donation that we'll use to help rescue Bengal cats.
Donate to Us While You Shop – with Amazon Smile
Bengal Rescue has been recognized as an official Amazon Smile Charity! Just click the button to go to our page and select Bengal Rescue as your charity of choice.
For every purchase you make, Amazon donates 0.5% of the price of your eligible AmazonSmile purchases to Bengal Rescue.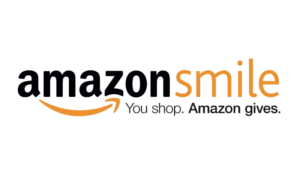 Donate to Us While You Shop – with Chewy.com
Bengal Rescue has also been recognized as an official Chewy.com partner. Click on the Chewy.com logo below to shop. Bengal Rescue receives a referral bonus for all new Chewy.com customers.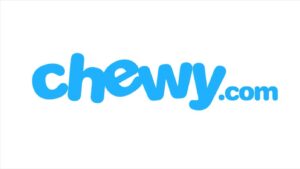 Litter Box
We're starting with the MOST important category of Recommended Products first – which is the litter box. Litter box avoidance is the #1 reason why cats (including Bengals) are surrendered to shelters. Most of the time it is human-error that causes litter box avoidance. Please read our page on Litter Box Issues, for more information.
Let's get your cat started off for success!
We love this Frisco Litter box from Chewy.com. It has low entry on one side, and his high-sided for cats who stand up when they urinate (common Bengal trait).
Click on the photo to order (Note: this post contains affiliate links to Chewy.com, and Bengal Rescue will be compensated if you make a purchase after clicking on the links).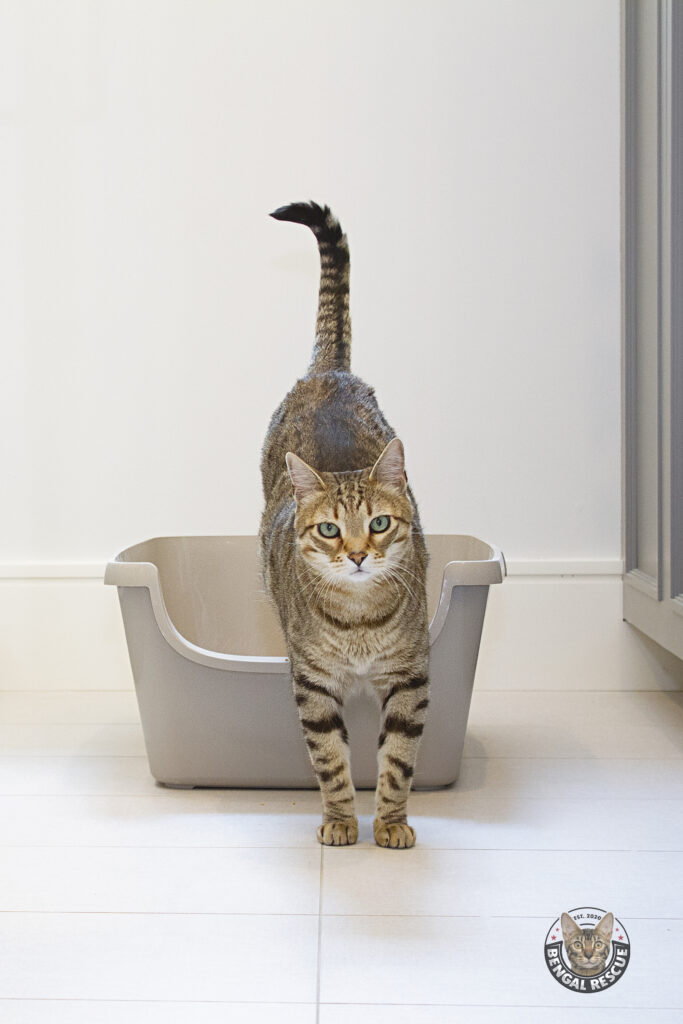 As important as the litter box setup is – the MOST important thing is YOU! We ask you human to PLEASE scoop religiously. Every AM and PM. And if you walk by and see that there is a "deposit" – you should scoop then too.
Most cats will hop right into the litter box and use it the moment you finish scooping. Why? It's because they LOVE a clean box.
The golden rule is also +1 litter box more than the number of cats you have. So if you have two cats – you need three litter boxes.
With a little diligence and commitment on your part, you will be setting your cat up for success – and a lifetime of perfect litter box use.
Cat Litter
Clay litter has chemicals in it that help make it "clump" – the cat takes a bath, and now is ingesting those harmful chemicals.
Please read this article to learn why clay litter is unadvisable Is Clay Litter Bad for Cat Health?
Because of the dangers of Clay Litter, we did our research – and we're simply over the moon about okocat Natural wood litter! Hands down, it is the top pick of all of our Recommended Items. It weighs 1/3 of what Clay-based litters weigh, it contains no chemicals at all, it clumps like a charm, keeps odor under control, and it's easy on the budget!
We recommend both the "original" and the "long haired" versions. The Original version is closer to clay litter in texture, and the Long-Haired version is more like traditional pellets.
Click on the photo and you can buy direct from Chewy.com
To learn more about okocat visit their website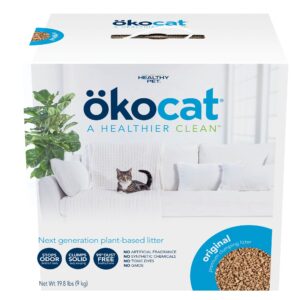 Litter Genie
The Litter Genie makes scooping more efficient, but we do not recommended you keeping it near the litter box as kitty noses are sensitive!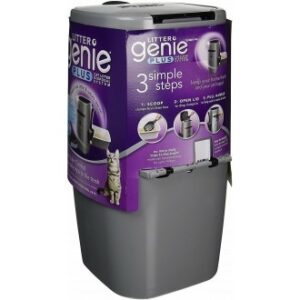 Cat Carrier
You'll definitely want to get a carrier, for the first transport and also for Vet Visits. It also makes a nice "hideaway spot" for your cat to sleep, once you put in some nice soft fleece. If you give your cat access to the carrier, and they think of it as a "safe place" – it makes it easier when you do have to put your cat in the carrier for transport. We like the Sherpa brand carrier because it is also airline-approved.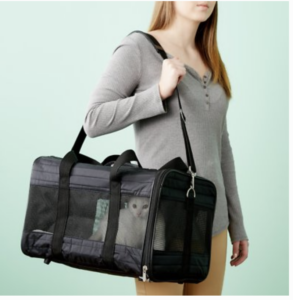 Pheromone Diffuser
We are BIG fans of the Comfort Zone Multi-cat pheromone diffusers. We recommend using these during ANY time of stress. Even if you have only one cat, the Multi-cat formula is the one you would want to purchase. We recommend this for any time there are huge changes in the cat's environment, such as:
Bringing your new cat home
Introducing cats to other cats / dogs / etc.
During a move (before / during / after)
Stress in the home due to unforeseen circumstances

Cat Grass
We love Cat Ladies' Cat Grass, and your cat will too. It grows fast and is long lasting. Great for digestion and provides fiber that eases digestion.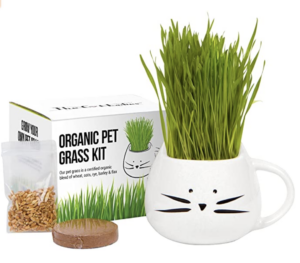 We also love this Rustic planter with Wheatgrass. Cats love the variety between the two.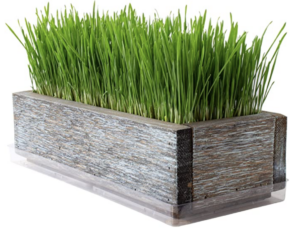 Cat Towers
You can't go wrong with an oversized cat tower! We love these because they feature lots of sisal rope for good scratching.  These are sturdy and all "tree dwelling" cats really love them. We like to put soft fleece on the perches and towers, making a more comfy nap spot.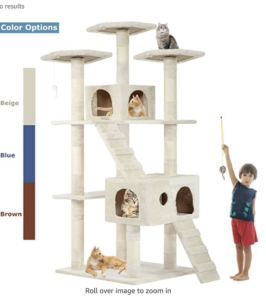 SmartCat Pioneer Pet Ultimate Scratch Post
The SmartCat Scratch post is a great option to put near your couch, so that you can encourage scratching on the post – and not the furniture!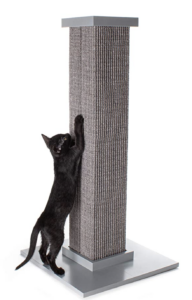 Tuft and Paw
We're a huge fan of the entire Tuft and Paw line of cat products. All of their cat towers / perches / scratchers and toys are made with the highest attention to detail. Not only are their products stylish and unique, they also stand up to even the most rambunctious Bengals.
Tuft+Paw : Modern Furniture for Cats
Toys
There are millions of Toys for cats – but we can all relate to cats playing with a toy only once – never to use it again. We promise these toys are the best!
Yeowww! Catnip Toys
We have yet to meet a Bengal cat who doesn't go CRAZY for Yeowww Catnip toys! Trust us – there is no better catnip out there. And "Da Bird" by Go Cat is the gold standard in cat teaser toys.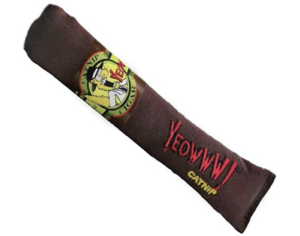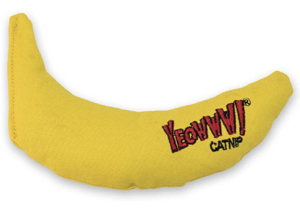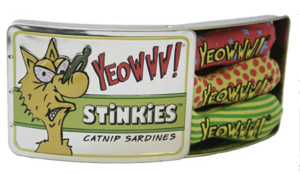 Da Bird Feather Wand
Best Teaser toy out there – but you need to store this securely when not in use. Some cats like to chew on and then ingest the string – which is super dangerous!

Robotic Fish
Cats go crazy for these robotic fish!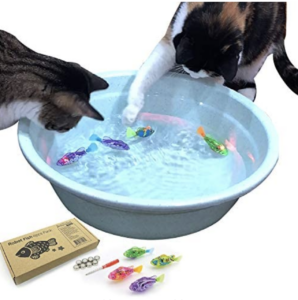 Cat Sitter DVD
This is the *Original* and BEST DVD out there! Cats love to watch the birds, mice and other critters – endlessly!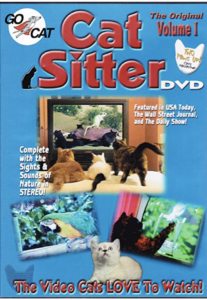 Cat Bed
There is nothing better than a heated cat bed – once you try it, you'll see. Our favorite one is the K&H Pet Products Thermo-Kitty Heated Pet Bed (16″ diameter, 4 watts).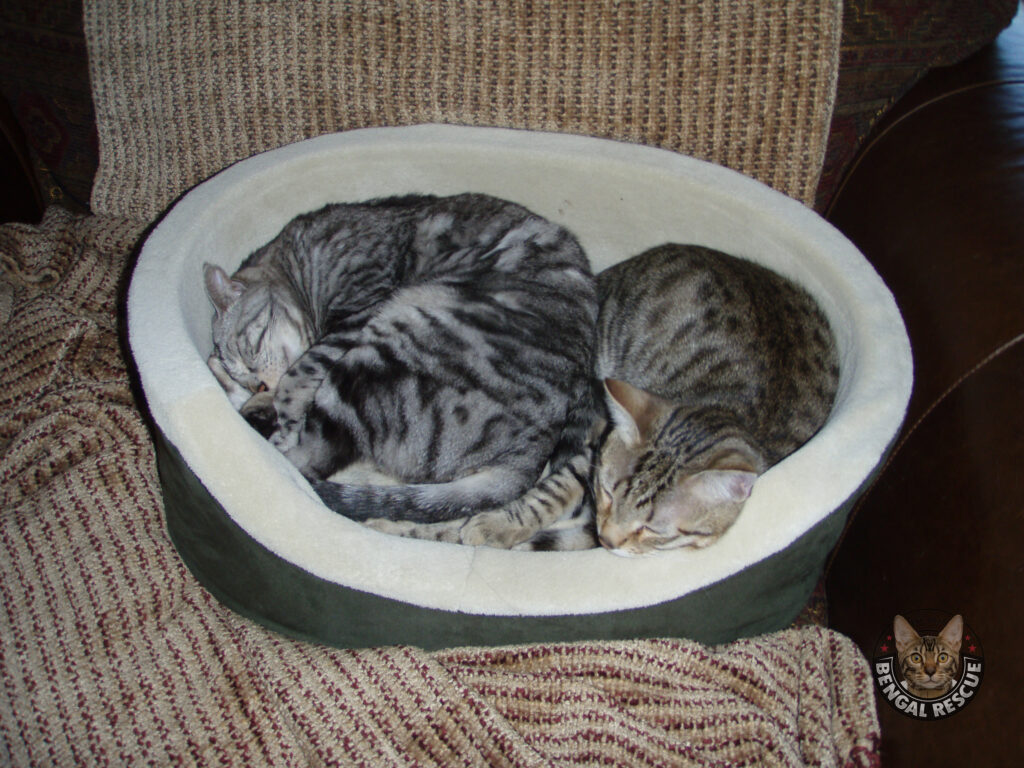 Scratch Lounge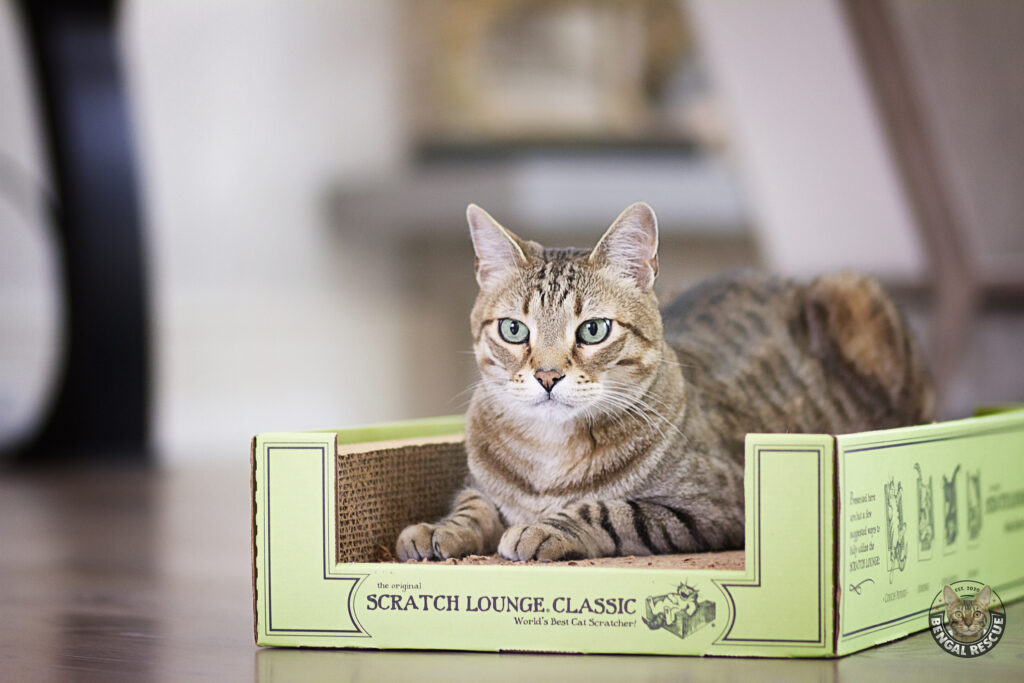 Puzzle Box Treat Feeder
One way to keep your cat entertained is to give them treats in a Puzzle Box Feeder. Bengal cats are notoriously smart and active. They can be easily bored. Make treat time even more fun with this wonderful feeder!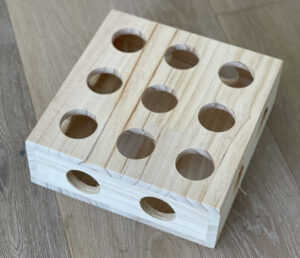 Food Bowls
Food bowls should never be plastic! Plastic is a horrible germ-collector, even if you use the dishwasher. Plastic breaks down and absorbs germs and can never be properly cleaned.
We recommend either glass or high quality stainless steel bowls; they are much more sterile.
We like these bowls from Duralex. They are highly durable and the width of the bowl ensures that the cat's whiskers aren't "pinched' during meal times.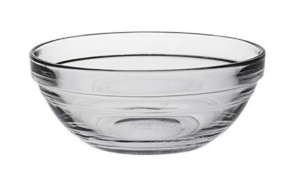 Water Fountain
You've probably heard that a lot of Bengals LOVE water (and all cats need to drink plenty of water for good health). But did you know that MOST Bengals will not drink out of a stagnant water bowl? It's true! That's why we recommend a good water fountain. It needs to be cleaned once a week, and should only be porcelain or metal. Filters get changed every two weeks.
We love the PetSafe Drinkwell Pagoda model. It's extra sturdy (for those who like to *play* in the water. It's quiet and easy to maintain.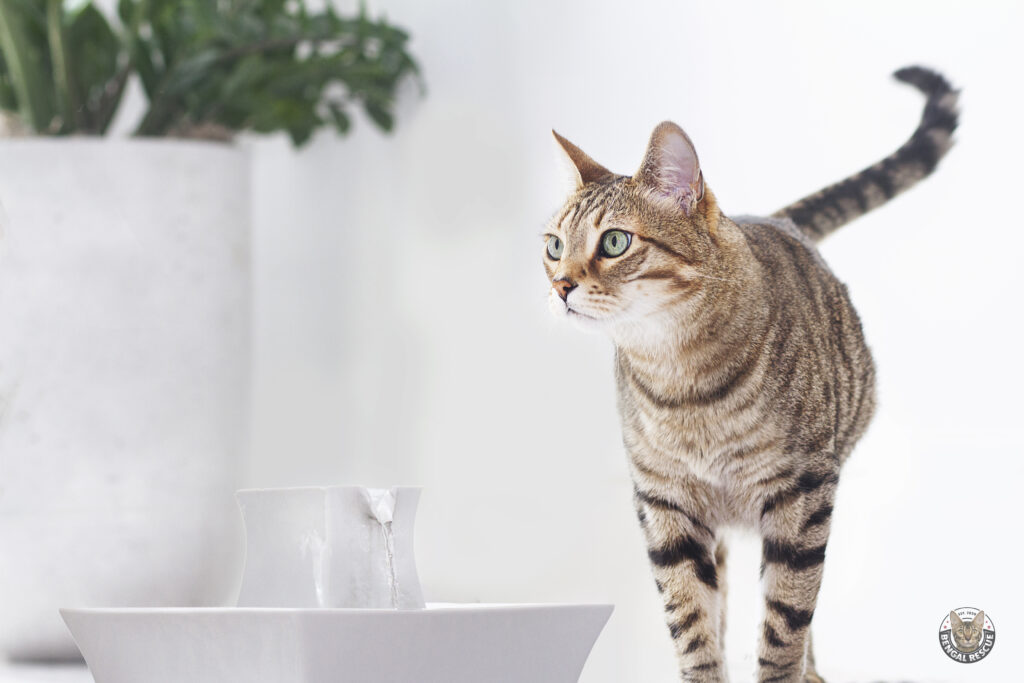 Harness
Most Bengals can be trained to wear a harness, so they can safely enjoy outdoor adventures. We really love the SafetyKatz Harnesses.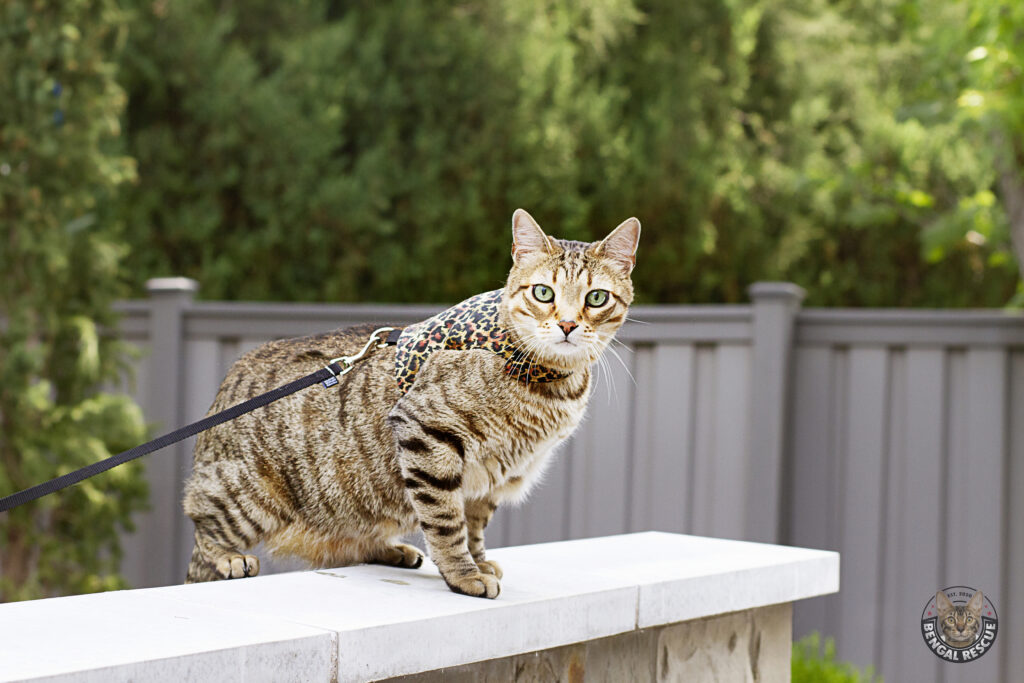 Check out this great article about How to Harness Train a Cat
Nail Trimmer
Sisal scratch posts do a great job of helping cats naturally shed their nails, however regular clipping is definitely important. We recommend this clipper on Amazon.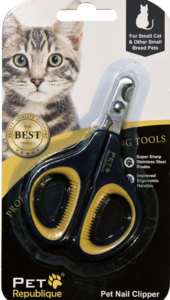 Cleaner
Pets are pets! They don't always use the litter box perfectly, sometimes they vomit (obviously if this is a recurring issue you must get your cat seen by a Veterinarian). We always recommend investing in a GREAT enzyme cleaner.
Pet Store shelves are overflowing with products that DO NOT WORK. Trust us, these are the only products that DO work.
Anti-Icky Poo
This is our #1 go to for cleaning up pet odors and stains. We've tested it on Carpet, Custom wood flooring, tile, walls, fabric, leather – you name it. Be sure to buy only the Unscented version.

Unique Pet Odor & Stain Eliminator
If the Anti-Icky Poo doesn't do the trick – we move next to Unique. This product really works! It's great on tile, on wood, on carpet, and on fabric. It is concentrated; a little goes a long way.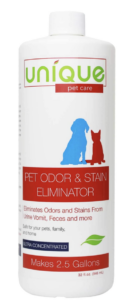 Thornell Cat Odor Off
Fantastic product! Cat Odor-Off is concentrated, so a little goes a long way.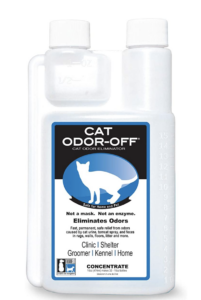 Product Descriptions
Bengal Rescue attempts to be as accurate as possible. However, Bengal Rescue does not warrant that product descriptions or other content on the Site is accurate, complete, reliable, current or error-free. If a product recommended by Bengal Rescue is not as described, your sole remedy is to return the product to the manufacturer.
© Bengal Rescue 2023